Essex, Montana. A flag stop on the Empire Builder's trips back and forth on the northern transcon. Located fifty miles south of the Canadian border, and eight miles west of the Continental Divide at the Marais Pass, Essex is home to the Izaak Walton Inn. The inn is the epitome of what a great railroad inn should be.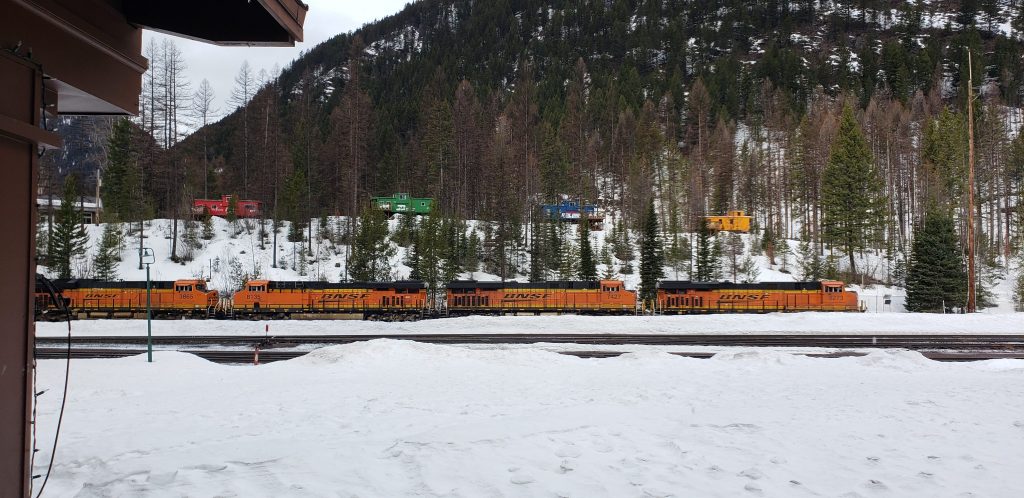 The Great Northern Railroad built the inn in 1939 for its crews working the top of the grade. Years later, when the railroad sold the inn to private owners, the emphasis shifted to travelers aimed at Glacier National Park. Today the inn is a destination for train enthusiasts and outdoor lovers looking for winter cross country skiing and snow shoeing, as well as warm weather sports like trout fishing in the Flathead river, and the chance to see the wonders of Glacier.
When I visited the last week in March of 2019, highs in the low forties made it possible to sit in the swings on the covered porch to wait and watch for the BNSF unit trains and manifest freights thundering east and west a mere eighty yards away. When it got too cold, moving inside next to the fire to watch those same trains through windows stretched the fun into a daylong joy.
The restaurant is open from 7:00 am to 10:00 pm. Less formal meals are available in the full service bar starting at 11:00 am. It's a good thing the food is good because unless you brought your own, the inn is it.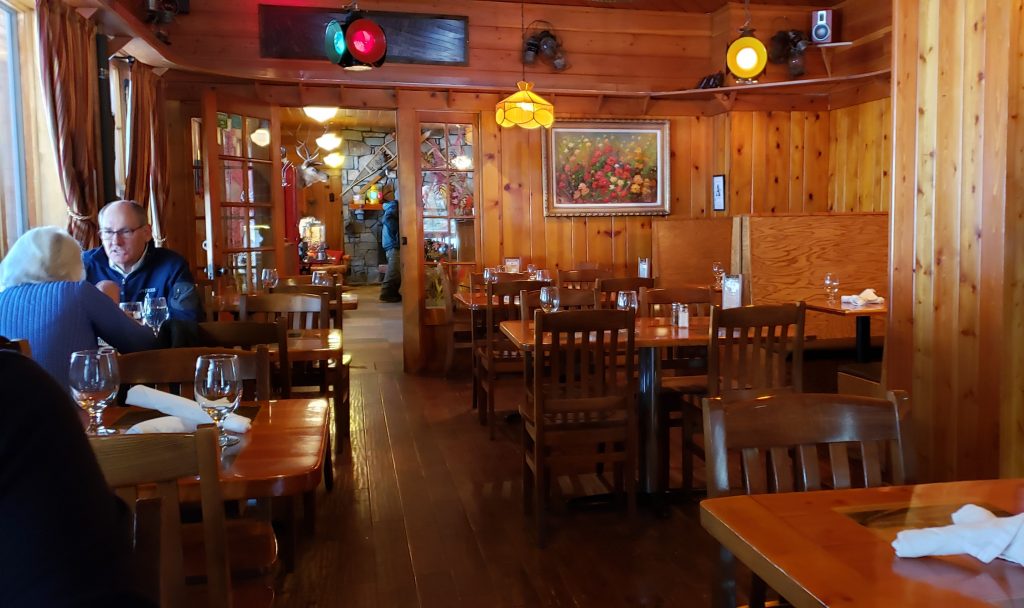 When I visited, I rode the Empire Builder from Portland and 15 hours later got off in Essex where the inn's van awaited. The all night train ride in coach was comfortable and affordable. If the reason for your trip is the love of trains, Amtrak gives you a view of the workings from a vantage point far better than standing trackside. Listening to the horn at every grade crossing, and watching freights thundering by, are entertaining. The coach round trip ticket bought two months early cost $164 making it a travel steal. My trackside room in winter and midweek at the inn was $159/night plus tax.
You will find no shortage of people to visit with from all over, but if you don't like crowds go before the end of May or after Labor Day. For more details visit the inn on the web at izaakwaltoninn.com.