Twenty years ago the ORN 197 won its freedom from the outdoor display it sat in for nearly forty years at Oaks Park. In the 1950's it became advantageous for the railroads to "donate" steam engines that were being retired in favor of diesel power. The railroads faced a bill from the scrap heap or a tax deduction if they could find a willing entity to take the obsolete engine. The City of Portland took three, the three proud steam engines for whom the Oregon Rail Heritage Foundation now provides a roof. The three engines, in various stages of preservation, are cared for by volunteers that lovingly provide time, labor, and often money, to preserve.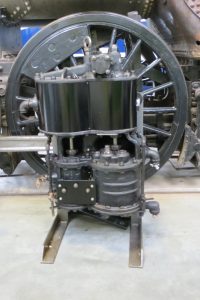 Built in 1905 by Baldwin Locomotive Works as a 4-6-2 "Pacific" type locomotive for the E. H. Harriman rail empire that later merged into the Union Pacific, she's 79′ long and, with 200 psi boiler pressure and 76″ diameter drivers, is capable of sustained speeds of 80 mph.
This treasure of the early 20th Century era of steam locomotives arrived in Portland just in time for the 1905 Lewis & Clark Centennial Exposition, just 17 months before the Wright Brothers first flew at 9.8 mph, when Teddy Roosevelt was President and 3 years before Henry Ford rolled out his first Model T. She then went on to serve Portland commerce for over 50 years before retirement in the 1950s. Residing as only a display piece in Oaks Park like her sisters since 1958, in 1996 she was moved to the Brooklyn Roundhouse, and in 2012 moved to the Oregon Rail Heritage Center where the Friends of the OR&N 197 now care for it. Restoration continues and the work is not to be missed when you visit the Center.
In the months ahead we will provide more history on the 197 and the men and women who have given so much to the process of bringing her back to life.