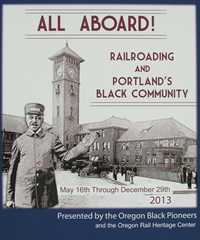 The Oregon Historical Society's wonderful exhibit All Aboard!  Railroading and Portland's Black Community is now appearing at the Oregon Rail Heritage Center.  This remarkable exhibit shows through pictures and stories how the Black Community in Portland was built around the railroads.  As late as 1941, the railroads provided 98.6% of all local black jobs.
The Oregon Rail Heritage Center is open from 1 to 5 Thursdays through Sundays at 2250 SE Water Avenue near OMSI.  Admission is free.  Donations to support the Center and the exhibit gladly accepted.  While you're in the building take time to admire some of Portland's most prized possessions — their steam engines and other railroad memorabilia.
For more information click here.
The exhibit will run through April 30, 2014.