No better place to introduce you to the Oregon Rail Heritage Foundation's new feature than with one of America's most famous train rides: the narrow gauge Durango and Silverton. We rode it in early June and were mesmerized by the beauty of the scenery that can only be seen by train or foot, and the classy service that made the day-long ride a pleasure from start to finish.
Coming at the end of our first week on the road, we were ready to let somebody else do the driving. Riding behind a K-36 Mikado steam engine (see photo) is the way to go to feel the authenticity of a ride through time. The Durango and Silverton was built in the early 1880's as a narrow gauge railroad to service the silver mines in the aptly named town of Silverton forty-five miles up the mountains. It was narrow gauge because rails were lighter to handle, and to save money. The six-and-a-half-hour trip includes a lunch stop in Silverton that has numerous restaurants to choose from. Plan ahead because at an elevation of 9300 feet walking can become tiring.
We decided to pay a little extra to sit in the Parlor Car, a beautifully restored vintage rail car (see photo) complete with gleaming woodwork and lots of windows to admire the Colorado countryside. The choice of the Parlor Car proved to be an inspired decision. Instead of bench seats with limited leg room we sat in moveable chairs at small tables. An attendant brought us coffee and other refreshments. She also prompted us to the wonderful photo opportunities on the trip and told us where to aim our cameras. She was also loaded with information on the ride and the history of the railroad.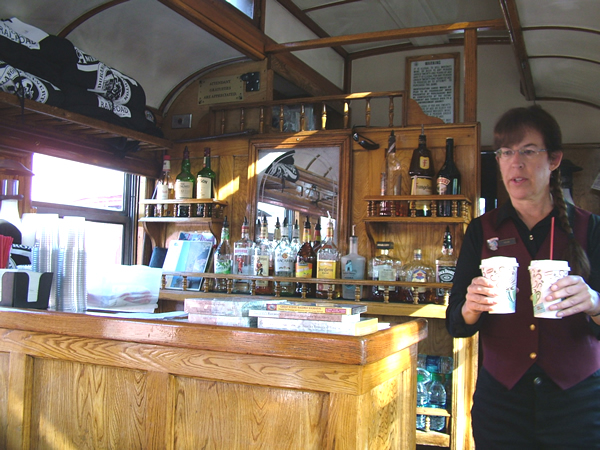 Picking a place to stay in Durango is somewhat limited. The elevation of nearly 7,000 feet is another consideration for some. We decided to stay in Farmington, New Mexico sixty miles away and use it as a base of operations for five days while we saw the railroad one day, Mesa Verde on another, a day at the Ship Rock Native American "flea market," and still another day trip to Monument Valley in Arizona. Staying in Farmington makes sense money-wise, too. It's at least a $100 a night less than staying in Durango. Restaurants abound and meals should not be a problem.
Train Trips encourages you to share your train trips with us. Contact us at [email protected] for more information.
Happy rails!